Mario HACQUARD, baritone and actor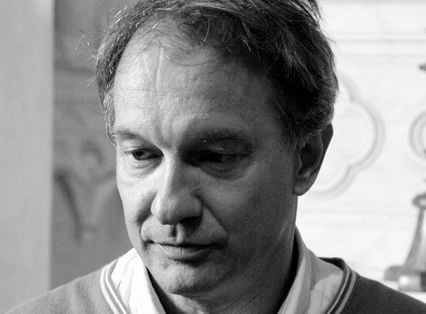 After studying History and Geography at the Sorbonne University, followed by Gregorian chant at the Ecole Cesar-Franck, Mario Hacquard enters the Paris National Music Conservatory. There, he wins several first medals and is admitted at the Ecole d'Art Lyrique of the Paris Opera with the unanimity of the jury. He receives the Prix Ravel and the Prix Jacques-Ibert at the International Competition of French Melody.
He has performed throughout Europe, in Japan, in Canada, in Algeria and Israel, in operas by Mozart, Haydn, Cimarosa, Rossini, Puccini, Massenet, Fauré, Offenbach, Britten, Bernstein and oratorios by Monteverdi, Bach, Haendel, Brahms, Mendelssohn, Berlioz, Saint-Saëns, Dvorak, Schönberg…
He also leads the Ensemble vocal A REBOURS (medieval music) and directs operas. Mario Hacquard founded the Music festival of the Chablisien - Burgundy's Golden Gate, for wich he is also artistic Director.
Mario has recorded thirty five records. 
Press Reviews
Mélodies françaises oubliées
With extreme care and great elegance, the excellent Baritone Mario Hacquard and the pianist Claude Collet bring us back a few of these jewels.
Le Monde de la musique
 Beethoven
A breath of fresh air and poetic intelligence with these less familiar Beethoven Lieder, which however reveal the genius of their Master… A very appealing success by four young fellows at their best, with the beautiful, firm, and well-timbred baritone voice of Mario Hacquard, and deliver us these jewels of sung poetry.
Radio Notre-Dame
 Winterreise
With magnificent timbre and impeccable diction, Mario Hacquard sweeps again (after an exemplary Beethoven record) the German repertoire clean of its grisly expressionist easiness. Far from the dying ogres, the music is brought back to its essential simplicity – and by a French man. And it's about time to factor that in.
Marcel Marnat - Musical Press International
 Angeli et Archangeli
The remarkable baritone, with superb audacity based on his beautiful technique, his vast culture and artistic sense, attacks by himself the exceptional specialty of Gregorian Chant, which he studied at the Ecole César-Franck…
…Just like he dominates French Melody and Lieder, Mario Hacquard masters this most difficult virtuoso art, with a voice and musical conception without insipidity, which bring him out of the cloister, where the angels are of course not locked up with the monks…
Journal de la Confédération Musicale de France
Par les tendres soirs de lune
(French songs by Neuville, Tailleferre and Tomasi) Polymnie records
.
In 1983, a great musical personality, Germaine Tailleferre, "la Dame des Six", passed away.
During her funeral, Mario Hacquard sang Fauré's Requiem, one of her favourite scores. Mario and Germaine had a very deep relationship; towards the end of her life she dedicated a few of her works to him, and they greatly enjoyed playing them together.
This CD pays tribute to Germaine Tailleferre with mostly never previously recorded songs.
The first part of the recital consists of rare songs by Valentin Neuville, a composer who was born in French Flanders and who worked as an organist in Lyons.
In the last part we can hear Laotian Songs, written by Mediterranean-born Henri Tomasi, Grand Prix de Rome, a conductor and a musician deeply committed to world peace.
The whole program brings the art of "Melodie", so typical of French music in the 20th century under a much-needed light.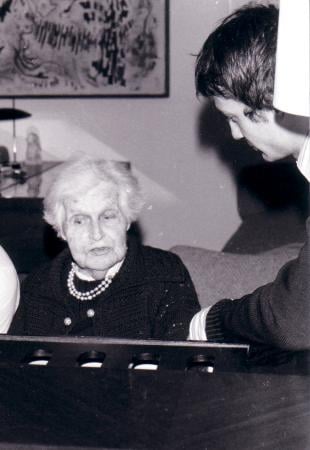 Germaine Tailleferre and Mario Hacquard  photo Fabienne Ameisen